The Land
GORDONZELLO has 205 hectares of vineyards divided into 8 parcels, differentiated by the grape type and orientation, which guarantees a progressive maturation and harvest.
Our vineyards are situated at 750 m altitude in the town of Gordoncillo within the DO Tierra de León, in the southern part , which guarantees quality and optimal ripening of the harvest, to have more sun and higher temperatures .
WEATHER
The wheather is continental , characterized by cold winters and short, hot summers. Rainfall ranges from 400-550 mm per year with little rainfall during the summer. The minimum temperatures in the coldest months never exceed 15 ° C. As spring frosts , is a high-risk area , as most of the plateau, since the incidence of frost -2C °, when the vineyard has started the growing season is relatively common . During summers significant variation in temperature between day and night there , favoring the correct maturation .
LAND
These are soils of Quaternary origin , settled on alluvial terraces of river Cea . They are characterized by low organic matter with abundant boulder surface that provides good aeration , drainage and root penetration . Clay loam composition mostly fine sand and less , retains moisture to make it available to the vines in the dry summers in this area .
PLANTATION
The vineyard was planted in three phases : 1996, 1997 and 1998 , having got so far, quality production and balanced. All planting is rainfed , no irrigation and is formed on a low trellis 1.7 m . The formation height of the plants is around 50 cm and planting frame is 3 and 1.5 m between row between plants , which gives a density of 2,222 plants per ha. The main varieties and acquire more prominence in gordonzello are indigenous to the DO Tierra de Leon : weevil and Albarín Prieto , and to a lesser extent inks : Tempranillo and Mencia, and white : Verdejo . Varieties that give us excellent results for red and rosé develop personality and fresh and fruity white , very suitable both for barrel aging.
OUR PARCELS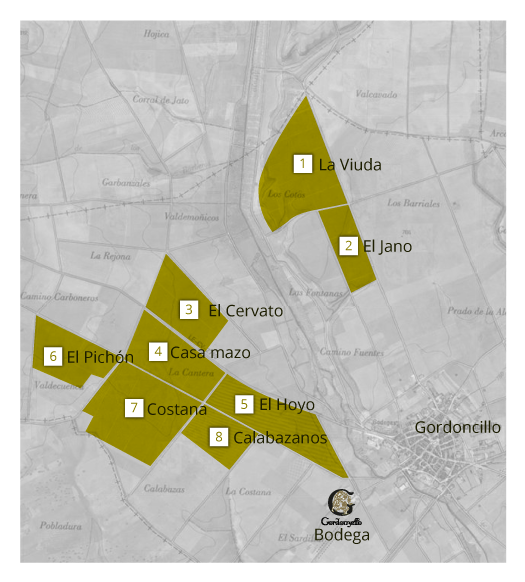 1. La Viuda
Situation: Pol. 7 Finca 17 - Surface: 31 ha -Variety: Prieto Picudo
2. El Jano
Situation: Pol. 8 Finca 69 - Surface: 14 ha - Variety: Prieto Picudo
3. El Cervato
Situation: Pol. 14 Finca 15 - Surface:21 ha - Variety: Verdejo
4. Casa Mazo
Situation: Pol. 13 Finca 29 - Surface: 25ha - Variety: Prieto Picudo
5. El Hoyo
Situation: Pol. 12 Finca 1 - Surface: 29ha - Variety: Prieto Picudo
6. El Pichón
Situation: Pol. 13 Finca 21 - Surface: 21 ha - Variety: Mencía
7. Costana
Situation: Pol. 13 Finca 30 - Surface: 44 ha - Variety: Tempranillo
8. Calabazanos
Situation: Pol. 12 Finca 2 - Surface: 15 ha - Variety: Albarín (6 ha), Verdejo (7 ha) y Tempranillo (2 ha)
Related Articles